The Secular Northwest: Religion and Irreligion in Everyday Postwar Life
Review By Brian Fraser
March 19, 2017
BC Studies no. 196 Winter 2017-2018 | p. 150-152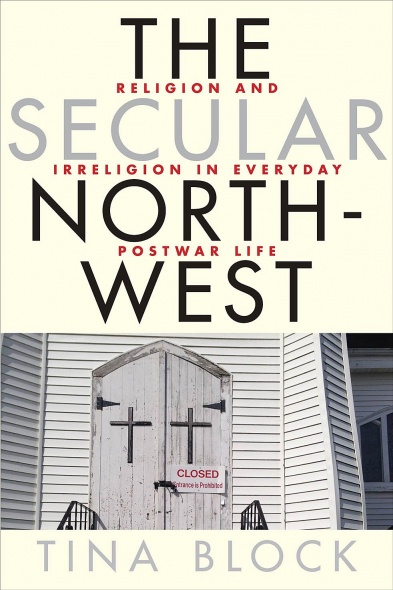 Scholarly endeavours, at their best, are richly textured conversations with a wide range of considered opinion and new sources that reveal dimensions of a subject previously hidden. Tina Block conducts such an endeavor focusing on the complex dynamics and impact of secularity in the Pacific Northwest between 1950 and 1970. This book is a provocative progress report on her findings and reflections.
The central contention of the book is that Northwest secularity in that period was a distinct regional culture that placed relatively little importance on formal religious connections and involvement. Block explores in considerable depth the shaping, meaning, and significance of secularity in the unique regional culture of the Pacific Northwest.
Block's understanding of secularity is broad and nuanced. For her, secularity is distinguished by a distance from religious institutions and a fluidity of beliefs. It consists of the many ways in which people have avoided, resisted, or rejected religion (the beliefs, structures, and practices people associate with the supernatural, sacred, or other worldly), particularly in its organized forms. She explores these diverse forms of meaning through the lenses of organized religion, class, gender, beliefs, family, and region. Her understanding also incorporates the dynamics of individualism, materialism, independence, and mobility.
Block uses three primary sources in her study: printed articles from both religious and irreligious sources from a wide variety of regional and national writers; demographic data from governmental and polling sources; and interviews with forty-four residents of the region who identified as having a secular worldview during the period under study. The number of interviews might seem small, but Block listened carefully for the ways the interviewees constructed their worldviews in the vernacular of the region. Her weaving of their lived language into the rich tapestry of the study is one of the outstanding features of this work.
I am especially impressed by the ways in which Block uses the oral histories she has gathered to challenge the theoretical frameworks often imposed on lived reality. Secularity, she argues throughout the book, is a much more complicated and shifting phenomenon than many assume.  For me, as both a Canadian religious historian and a practicing Christian minister in Burnaby, BC, this pioneering study on the intricacies of secularity in the Pacific Northwest opens up a whole new set of questions and possibilities in both dimensions of my life.
Block draws judiciously on a broad range of scholarly approaches in fields that dig deeply into the everyday reality of how humans shape and express meaning. The primary disciplines are lived history, oral history, regional history, religious history, sociology, geography, and cultural studies, but many more inform the questions she brings to her topic. Especially in the introduction of her book, Block offers an instructive summary of the frameworks and insights offered by these relatively new disciplines. The depth of her analysis in the rest of the book, as she applies these perspectives to her topic, illustrates their usefulness in getting closer to the complexities of lived reality.
As she pursues this endeavor, Block raises three questions of interest that lie beyond the scope of her present study. First, the study was limited to the white population of the region and she is curious about how non-Europeans construct their experience of secularity. Second, she wants to explore more deeply the impact of nature-based leisure activities in the region, such as skiing and camping, on religiosity and irreligiosity. Finally, she thinks there is more work to be done on the connections between the distinctive religious, political, and moral perspectives of Northwesterners. From my perspective within organized religion, I'd be curious about a comparative study between the perspectives of her interviewees and those ordinary church members who decided to stay connected with organized religion in the Pacific Northwest. How did they construct their continuing or new-found adherence and is there something regionally unique about their religiosity?
To conclude, people interested in Pacific Northwest life are indebted to Tina Block for an admirable scholarly endeavor. It deserves wide circulation and consideration.