The Language of Family: Stories of Bonds and Belonging
January 1, 2018
Review By Emily Jean Leischner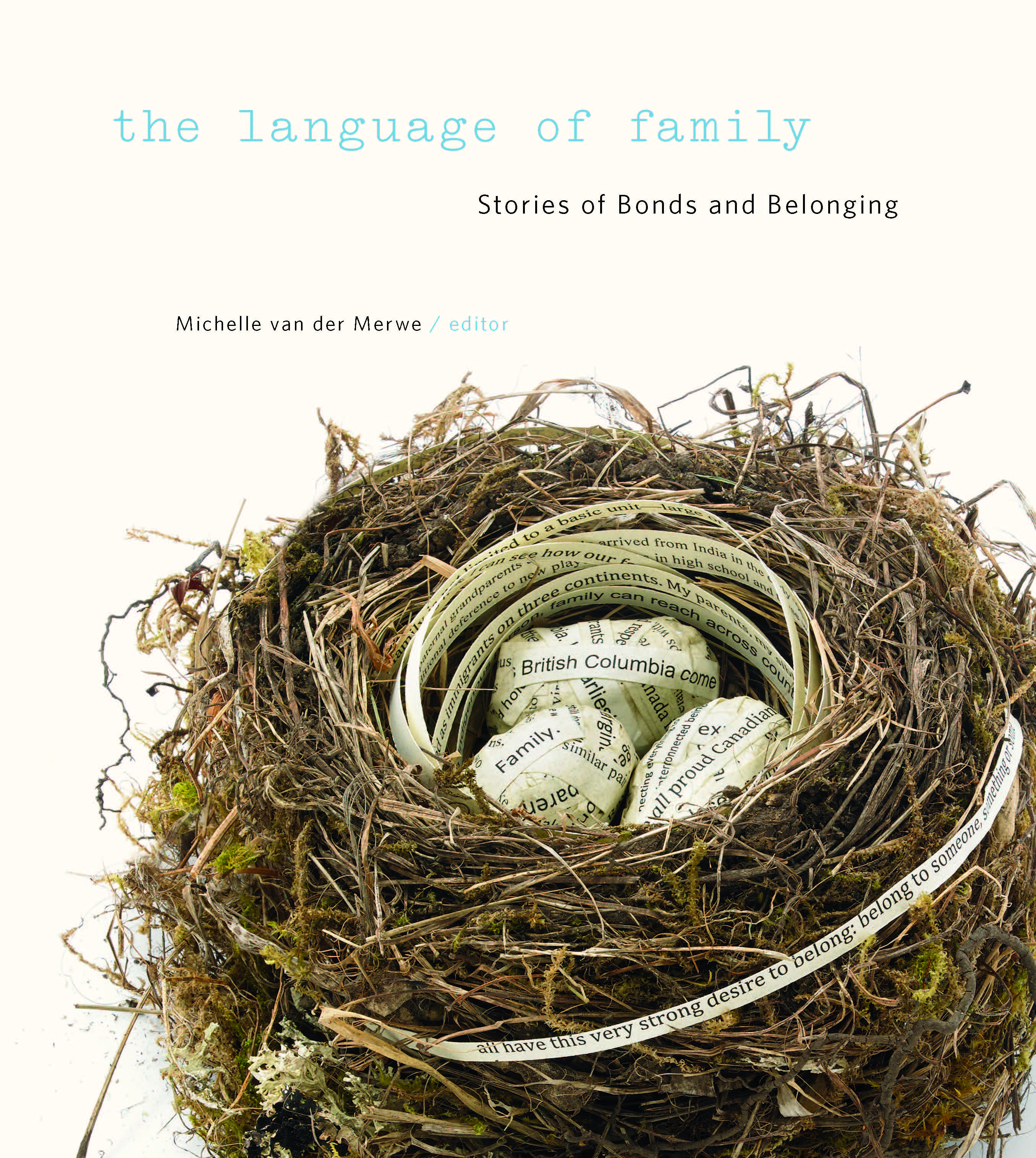 "What does a book about family look like when everyone's idea of family is different?" So opens Michelle van der Merwe's thoughtfully edited volume The Language of Family: Stories of Bond and Belongings. This anthology was published as part of the Royal BC Museum and Archives' contribution to Canada's 150th anniversary year, and accompanied an exhibition at the museum called "Family: Bonds and Belonging." A collection of twenty narratives and essays, poems and reflections from writers across British Columbia, this book offers a careful selection of the deeply personal and diverse bonds that unite families together, across place and time.
Drawing on a broad selection of writers, the contributions succeed in capturing the intimate nature of family within their writings. The works included offer a wide array of accounts, from historical to contemporary, that together express the breadth of meaningful connections families can provide. They range from an examination of historical letters written by children to their families while away at boarding school (Bridge) to a moving spoken word piece reflecting on home, legacy and loss (Thomas) to Joy Kogawa's lovingly written experience of belonging with a cherry tree from her childhood. Care was clearly made to provide vastly differing perspectives on what family means, and the varied insights from Canadian immigrant, First Nations, and LGBTQ communities, among others, provide a rich tapestry of experiences. The accompanying illustrations, largely photographs from the Royal BC Archives, all feature people and give the anthology the inviting feel of a family album. As a whole, the authors share captivating and vulnerable accounts that echo diary entries in their frankness, inviting the reader to reflect on our mutual longing for connection as an essential part of being human.
The only place this volume falls flat is when it hints at applying family as a metaphor for Canadian nationhood, which risks naturalizing the state and ignoring the colonial violence inherent in its creation. The Canadian government also has a paternalistic relationship with First Nations peoples, legislating their identity, rights and placing them under control of the state, all of which renders this metaphor particularly distasteful. That said, the purpose of this anthology is not to define the nation as a family nor to homogenize these experiences, but to celebrate the differing perspectives on what these relationships can mean.
While it is not an exhibition catalogue in the traditional sense, this volume also contains welcome additions to the field of museum scholarship with three essays that explore how museum practice could embrace the family as a central focus of discussion (Lohman, Hammond, Black). Authors elucidate how relationships are embedded within the objects museums collect, and propose that revealing these connections both enrich their layered meanings and provide an opportunity for speaking across the traditional categorical divides between curatorial departments. They also question why family connections are rarely expressed in labels, exhibitions or collections databases. These scholarly essays, like all the pieces in this volume, generously share the authors' personal experiences while encountering the meaning of family in their work, which nicely connects them to the anthology as a whole.
Overall, this collection is a lovely addition to Canadian history and literature studies. Its greatest strength lies in its ability to express the diversity of family connections, while also beautifully communicating the strong emotions that these relationships illicit, be they with those we have chosen or those we are born with. This work should be of interest to museum scholars, graduate students, historians and is also accessible to casual readers of British Columbia literature and history.
The Language of Family: Stories of Bonds and Belonging
Michelle van der Merwe, editor
Victoria: Royal BC Museum, 2017. 207 pp. $27.95 paper.