Searching for Tao Canyon
Review By Andreas Rutkauskas
June 11, 2019
BC Studies no. 203 Autumn 2019 | p. 149-150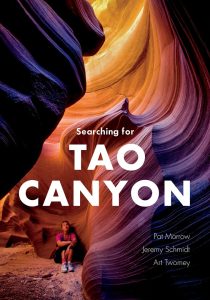 Searching for Tao Canyon, the outcome of decades of exploring previously uncharted slot canyons in the American Southwest, is dedicated to the accomplished photographer, glacier geologist, and conservationist Art Twomey, who was instrumental in the formation of the Purcell Wilderness Conservancy. It is therefore fitting that advocacy for the preservation of Earth's remaining wild spaces is at the forefront of this compact volume that integrates wistful text with photographs by Twomey and friends Pat Morrow and Jeremy Schmidt.
Engaging with an historic kinship between photography and wilderness conservation, Tao Canyon's narrative points to the fine balance between raising environmental awareness and attracting greater numbers of tourists to remote destinations. Twomey recognized this prospect after one of his images of a slot canyon appeared in the 1974 Sierra Club Wilderness Calendar, and subsequently changed the nature of that site inexorably. In the book's main text titled In the Jaw of the Dragon, Schmidt laments the loss of landscape in the wake of infrastructural projects such as the Glen Canyon Dam, and its epilogue makes direct reference to the rescinded protection of a sizable portion of Bears Ears National Monument in Utah. On a humbler scale, Schmidt recounts transporting a gopher snake in order to provide the reptile with a more suitable home, only to return a week later to find it dead. No matter how well-intentioned our actions may be, any human intervention in these delicate ecosystems may have dire consequences. Deliberate then is the author's choice to erase all geographic, traditional, or established place names, in an effort to preserve the sense of mystery and adventure in discovering these canyons.
Tao Canyonis first and foremost a book of photography, and its visuals present an alternative to the cliché image of a slot canyon as decidedly abstract, devoid of people, and fundamentally lacking any sense of scale. Morrow, Schmidt, and Twomey's photographs concentrate on the experience of being present in these majestic places, including the difficulties of hauling 4×5" large format camera equipment through water-choked passageways and rappelling with heavy kit into ink black canyon mouths. While the reader will find calendar-perfect images of subtly coloured sandstone walls within this book, they are tempered by a more documentary approach that reveals the photographer at work. The incorporation of performative imagery of hands touching stone, the dance of explorers above the canyon floor, and long or multiple exposures, lend a haunting quality to certain photographs. It also bears mentioning that they did all of this in Converse sneakers and bell-bottom jeans. One particularly stunning diptych in the book reveals two versions of an identical vantage; only the light changes between one frame and the next, demonstrating how the time of day can dramatically alter our impression of a place and suggest the power of geological time that formed these landscapes.
Ultimately, Searching for Tao Canyon imparts a poignant message that may be applied well beyond the scope of slot canyons. Morrow, Schmidt, and Twomey's text and remarkable photographs question the ethics of visualizing fragile landscapes, and give pause to terrain threatened by climate change, increased population density, extractive industry, and our desire to get off of the beaten track.