Canadian Pacific: The Golden Age of Travel
May 11, 2016
Review By Heather Longworth Sjoblom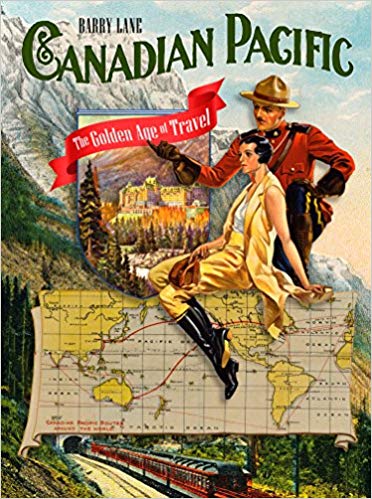 The Canadian Pacific Railway's travel literature boasts marvellous scenery, adventure, and extravagance. "You shall see mighty rivers, vast forest, boundless plains, stupendous mountains and wonders innumerable, and you shall see in all in comfort, nay in luxury," enthused a railway brochure in 1893 (58). In Canadian Pacific: The Golden Age of Travel, Barry Lane considers the company's history from the building of the transcontinental railway through to the development of hotels and mountain tourism to the creation of shipping and cruise lines. Lane traces the growth, decline, and legacy of this global travel network from the 1880s to the present.
Lane sets out to assemble a history of Canadian Pacific that tells the story of the railway, ships, hotels, and tourism "in a visual fashion that makes Canadian Pacific's achievements accessible to a general audience" (7). In this he is successful. Though this format does not allow him to go into great depth on many aspects of Canadian Pacific's history, he includes a surprising amount of detail in few words. Canadian Pacific ran a complete and unrivalled transportation system with first-class ships on the Atlantic and Pacific linked by a rapid continental express, with chateau-style hotels and late Victorian Gothic railway stations that stand as reminders that the company spanned, and in a corporate sense united, the young nation. The book is beautifully illustrated with an impressive collection of photographs, settlement and travel posters, sketches, and artwork from archives, personal collections, and museums around the world. These illustrations show the development of Canadian Pacific's infrastructure and the methods the company used to market itself to the British Empire and the world.
Canadian Pacific's services and decisions weren't perfect and this book is far from a whitewash of this corporate behemoth. For example, Lane recognizes the problems the company encountered from its decision to build the line through avalanche country. He includes the artist Edward Roper's account of his 1887 journey when the train encountered a snowstorm, rockslide, and forest fire that were at odds with the company's premature promise of seeing all in comfort and safety. He acknowledges Canadian Pacific's class divisions on immigrant ships and overcrowding and hygiene problems in third class quarters. He shows that Canadian Pacific's construction, and its ignition of forest fires from locomotive smokestacks, worked against the best interests of the First Nations along its main line.
Though national and global in scope, Canadian Pacific provides an overview of the company's extensive transportation network in British Columbia. He considers the construction and operation in mountains and canyons, the employment of Chinese labour, the principal hotels and railway stations, and shipping and cruises between Vancouver (the "Terminal City") and Asia. He shows how Canadian Pacific successfully cultivated a world-renowned reputation through elegant hotels, luxury rail cars, and the promotion of mountain scenery. One of the company's most successful campaigns was branding itself as the "All Red Line" where British subjects could circle the world without leaving the British Empire – which traditionally was shown in red or pink on British maps.
Canadian Pacific is a treasure trove of primary sources such as posters and photographs, all of which Lane sets in the context of early rail and steamship tourism in Canada.  This book is a wonderful and accessible visual introduction to what was the world's greatest transportation system.
Canadian Pacific: The Golden Age of Travel
Barry Lane
Fredericton: Goose Lane Editions, 2015. 200 pp. $45.00 cloth