Breaching the Peace: the Site C Dam and a Valley's Stand against Big Hydro
Damming the Peace: The Hidden Costs of the Site C Dam
Review By Zander Albertson
September 12, 2019
BC Studies no. 204 Winter 2019/20 | p. 220-221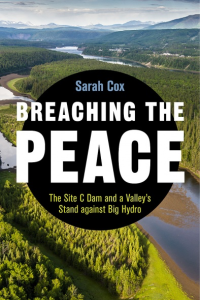 State-sponsored impoundment and "improvement" of rivers is nothing new, and much ink has been spilled documenting the social, ecological, and fiscal impacts of dams. In spite of growing awareness of these costs and declarations from scholars that the 1990s marked the end of the dam-building era, climate change concerns and economic development have fueled a resurgence of interest in hydroelectric dam projects in many countries around the world. These megaprojects can be understood as "high modernist" projects, underpinned by a faith in rational ordering and administration of nature and society to transform and improve society (Scott 1998). Scott (1998, 89)argues this vision goes awry "when it is held by ruling elites with no commitment to democracy or civil rights and who are therefore likely to use unbridled state power for its achievement." The Site C hydroelectric dam in British Columbia's Peace River Valley is one such project, thrust forward by the BC government with abject disregard for political process, First Nations, or local property owners.
In Breaching the Peace, journalist Sarah Cox adroitly introduces the reader to the Site C dam, the aggressive tactics employed by BC Hydro to promote it, and the local residents and First Nations fighting against it. Peopled with vivid characters, Cox's compelling narrative explores the impacts of the Site C project through the eyes of those most impacted: Treaty 8 First Nations members and local Peace Valley landowners. At stake in the struggle over the Site C dam are some of Canada's finest hectares of farmland, hundreds of significant ecological and cultural sites, and Indigenous treaty rights.
People, their livelihoods, senses of place, and connections to the land and each other feature prominently in this book, which makes convoluted politics and a challenging subject matter accessible and engaging. Though Cox focuses primarily on the human dimensions of the controversy, she weaves together a tapestry that emphasizes the relationships between people and the natural world: disregard for families and communities is inextricably bound up with environmental destruction, as is the failure of the BC government to view the project as the extension of a sordid history of violence and dispossession amid asymmetric power relations. Cox situates the project within relevant history, explores the biogeography of the Peace Valley, and documents the dubious tactics employed to push the project forward.
This work is sure to appeal to scholars interested in natural resource politics, colonialism, and Indigenous politics, and could serve as a textbook for university courses in those subject areas. Importantly, Breaching the Peace is accessible and engaging enough to entertain the interested lay reader and compel them to action. In his preface to the book, Amnesty International's Alex Neve writes, "[p]ast injustice does not excuse more of the same; rather, it makes it imperative to break with that disgraceful history" (xii). Cox's book is a rallying cry, told with compassion, against "Big Hydro."
Individuals inspired to learn more about the Site C project (perhaps inspired by Cox's Breaching the Peace) will find a similarly titled volume to be of interest as well. Damming the Peace is a collection of writings by journalists, planners, and policy professionals that explore Site C's many facets. In her introductory chapter, editor Wendy Holm hopes her book will serve as "both a rallying cry and a roadmap" to empowering critical discussions about the impacts of the dam (27).
The fifteen authors explore a wealth of topics, including: alternatives to hydroelectric energy (Guy Dauncey); climate change (David Schindler); violence, trauma and Indigenous resistance (Andrew MacLeod); biodiversity (Brian Churchill); food security (Wendy Holm); data manipulation (Joan Sawicki); hydromorphic and geologic impacts (Andrew Nikiforuk); trust and human health (Warren Bell); water geopolitics (Joyce Nelson); cumulative impacts on First Nations in the context of larger dispossession (Briony Penn); the necessity of social license and its absence in the Site C proceedings (Reg Whitten); the sunk-costs fallacy (Zoë Ducklow); Canada's weak legal institutions for environmental protection (Silver Donald Cameron); and democracy (Rafe Mair). Taken together, these chapters offer a wealth arguments and data against the dam.
The style found in Damming the Peace is decidedly activist and is likely to be appealing to a wide audience, including those with little background on the topic. The wealth of data presented makes the volume a useful compendium for those looking to make a rational case against the dam – but this approach also serves as a shortcoming. At times, authors appear to embrace the notion that scientific facts unequivocally inform the proper course of action: to counter BC Hydro's "statistical confusion, misrepresentation of facts, creative distractions, false comparisons and invalid modeling," (122) an assemblage of data and calculations are presented to help correct the aforementioned manipulations. Yet as an ample body of literature has pointed out, a reliance on data to "prove" a position in an environmental controversy obfuscates but does not obviate the value divergence at the heart of the disagreement (e.g. Sarewitz 2004).
Sarewitz (2004, 399) asserts that "progress in addressing environmental controversies will need to come primarily from advances in political process, rather than scientific research." To this end, both books highlight the subversion of accepted political mechanisms for decision-making and call attention to the serious abdication of considering the public interest in the case of Site C. If Scott (1998, 88) is correct that a necessary element for high modernist plans to succeed is "a weakened or prostrate civil society that lacks the capacity to resist these plans," the two books reviewed here are sure to invigorate the requisite Canadian civil society to help halt construction at Site C.
REFERENCES
Sarewitz, Daniel. 2004. "How Science Makes Environmental Controversies Worse." Environmental Science & Policy7 (5): 385–403. https://doi.org/10.1016/j.envsci.2004.06.001.
Scott, James C. 1998. Seeing Like a State: How Certain Schemes to Improve the Human Condition Have Failed. New Haven: Yale University Press.